Skip to Content
Screen Repairs & Replacement
Screen Repairs & Replacement of  St. Augustine and Palm Coast, FL
In Florida, screens are a way of life. Screens keep bugs out and let the fresh breeze in while protecting you from everything you'd rather not let into your pool or house. Unfortunately, they're also rather easy to break.
Here at Quality 1st Aluminum, we make sure that broken screens don't affect your quality of life. We'll re-screen your doors and windows, replace hardware for screen doors including tie-down straps, and more. Typically, when enclosures are over 10-years old, it's common to replace tapcons which secure the enclosure to the ground. We can help with that too and we use durable, Stainless Steel hardware!
We'll even replace individual panels that are damaged by storms, pets, or children. In short, there's no job too large or too small for us. Contact us today for more information!
We Feature Only the Highest Quality Fiberglass Screening
Pool & Patio Fiberglass
No-See-Um 20×20 Mesh
Florida Glass Screen
Solar Screen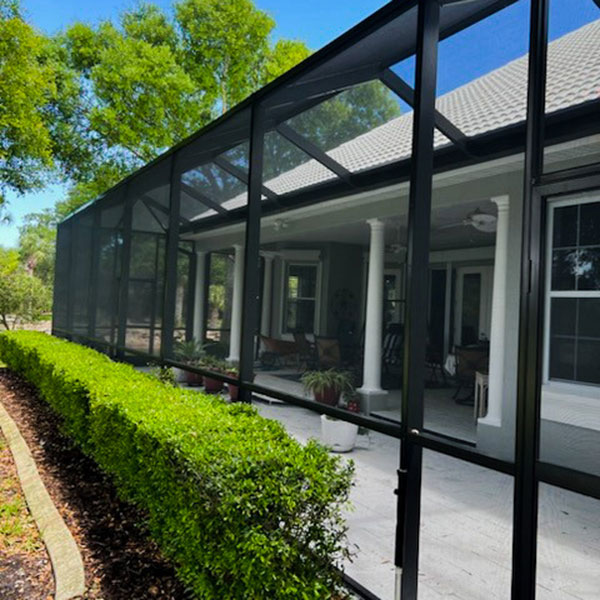 We Can Help With
Full or partial screen replacement
Doors not closing properly
Loose cables
Service for older cages
Tapcon replacement
Phiferglass Standard Screen 18/14
The traditional choice for patio and pool enclosures. This is the most standard type of screen.
No-See-Ums Screening 20/20
This fiberglass screen is a tightly-woven mesh designed to control small insects and help keep out pine needles. While densely woven, this screen still allows good ventilation and visibility.
Florida Glass Screen 18/14
Vinyl-laminated 18x14 fiberglass mesh. Glass Shield can be installed in the lower enclosure panels to keep dirt and debris out of pool enclosures or as a privacy screen in vertical (wall) applications.
Call Today for a Free Estimate!